Dakota Hunting Trips
Full Service Booking & Advertising
Information
Geese



The ubiquitous Canada goose is one of the best known birds in North America. It is found in every contiguous U.S. state and Canadian province at one time of the year or another.
Canada geese are adaptable to many habitats and may thrive wherever grasses, grains, or berries are available.
Ducks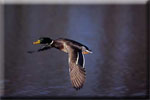 The green head and yellow bill of the mallard duck is a familiar sight to many people living in the Northern hemisphere. In fact, the mallard is thought to be the most abundant and wide-ranging duck on Earth.
Mallards prefer calm, shallow sanctuaries, but can be found in almost any body of freshwater across Asia, Europe, and North America. They're also found in saltwater and brackish water and are commonly found in wetlands.
The male, or drake, is the more distinctively colored of the mallards. Its iconic green head sits atop a white neckband that sets off a chestnut-colored chest and gray body. Females are mottled drab brown in color, but sport iridescent purple-blue wing feathers that are visible as a patch on their sides. They grow to about 26 inches (65 centimeters) in length and can weigh up to 3 pounds (1.4 kilograms).
| | |
| --- | --- |
| | Goose & Duck Hunts |
Rolling Plains Adventures:

Combination waterfowl/upland hunts in central North Dakota for $250/day including deluxe lodging, guide, dogs, and 10,000 + acres. *Discounts for larger groups.
Welcome to the Dakota's #1 Hunting Resource!