Dakota Hunting Trips
Full Service Booking & Advertising
Information
Prairie Dog



The white-tailed prairie dog, lives in the western mountains. These rodents do not gather in large towns but maintain more scattered burrows. All species hunker down in winter and burn the reserves of fat they have stored during more plentiful seasons. White-tails may hibernate for up to six months on their mountain plains, while their black-tailed cousins sometimes emerge to feed on especially warm days.
Much of the Great Plains has been converted to farming or pastureland, and prairie dogs are not often welcome in such places. Because of their destructive landscaping, they are often killed as pests.
Coyote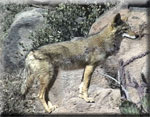 Coyotes have a good sense of smell, vision and hearing which, coupled with evasiveness, enables them to survive both in the wild and occasionally in the suburban areas of large cities. They are common in most rural areas, but because of their secretive nature, few are seen. Efforts to control or exterminate the Coyote by predator control agents seem to have produced an animal that is extremely alert and wary and well able to maintain itself.
Prairie Dog &

Coyote Hunts
Rolling Plains Adventures:

Enjoy free coyote hunting in south central North Dakota with the purchase of any pheasant hunt for $200/day. *Discounts for larger groups.
Antler Adventures:

Bring plenty of ammunition and guns! Our average hunter shoots 500 to 1500 rounds a day! Packages start at $200.
Garnos Ranch Hunts:

Are you looking for the full package? look no further! shoot 200 to 500 rounds per day for $475 per day includes lodging, hunting, meals, shooting benches, taxes and you receive one free night lodging.
Click on pictures for a larger view
Welcome to the Dakota's #1 Hunting Resource!